Text by Miss Fatima Co
Most friends would travel to places together, but we never did. Back in High School, where we first hung out together, our parents were rather strict, and I guess we never had the time and means to plan trips or picnics. But now that we're older, wiser and more financially independent, we finally got to have our first picnic to Pagudpud. This would have to be our farthest getaway so far (I know, lame!) but it was worth the excruciating wait!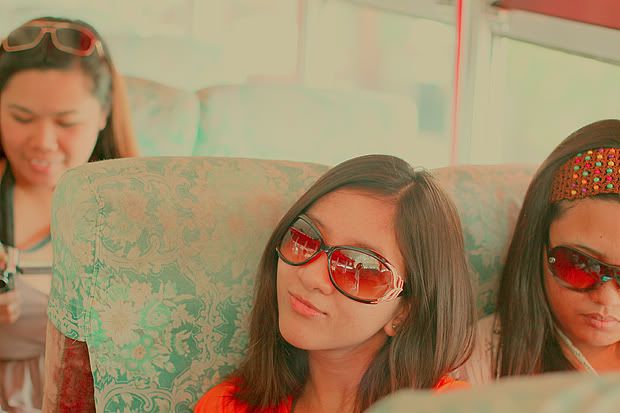 We like to call ourselves the Quattros Marias: Karen, Ferina, Fatima and Hazel. How we got the name was of an embarrassing yet funny memory from way back. The last three girls were called Tres Marias by our Guidance Counselor, Mrs. Romero, because we were always late for our morning classes and we would usually find ourselves inside the Guidance Office almost every morning trying to fill up excuse slips for tardiness. Karen has to be part of that memorable reputation now as the new Maria, though she was one of those immaculate, ever-punctual students in class.
Ever immaculate Karen! ;-)
After High School, college kept us apart. We did not have time to meet up a lot. Sometimes, it even became remote to contact each other. But we found ourselves back together, with more stories to tell, after College. Now the Marias can finally go out, chat, eat, laugh and cry together again.
We finally arrived at the Glenmark Homestay in time for a sumptuous lunch of Romaine Salad (by Ferina), Tuna Aglio Olio pasta (by Fatima) and Chicken sandwich (by Hazel), by the beach.
Fatima's yummy pasta!
Ferina preparing her WHATEVER salad.
WHATEVER SALAD
LOL the punggos!
I had sore eyes (conjunctivitis and keratitis). :-(

Halfway through our lunch, a man on board a motorcycle with a big wooden box nested on his back, stopped by and said "Hi" to us. We were actually surprised when he suddenly unboarded and came to approach us because we were the only people on that strip and there was nobody else that he could be going to. To our amusement, it turned out that he was a jewelry seller, and the big box he was holding was his fancy goods. He waited for us while we finished our lunch, and because it was a little uneasy eating while someone sat and waited for us, we offered him some of our food. But he adamantly refused our offers. When he finally gave in, he said our pasta was too spicy. That brought us to laughter. We ended up buying some trinkets to make up for his waiting, at least. Fatima bought a necklace of pearls (which was supposed to be nanganganak) on Ferina's prodding that it will bring good luck for conceiving a baby. Karen bought the same necklace to our surprise. (Maybe she's thinking of having that baby, too.)
So after lunch, we slept on the sand. Yes, on the fine, white sand. Little crabs were crawling around but we didn't mind. We couldn't sleep long enough, though, because the excitement was all over us. We ended up camwhoring on the beach instead.
When we finally got tired of taking pictures, we figured out that we should pitch up the tent while there was still enough light. Well, none of us knew how to put up a tent but we survived. Our blue tent stood proudly on the beach! When the sun was finally setting, we donned our swimwears and went out for an afternoon swim (To preserve all the Kojic Soaps and Lotions of many months past.). The waters of Mira-Ira were surprisingly shallow and cool. That day, the sea was calm, according to the people there, which was a first after a few days of rain and rough waves.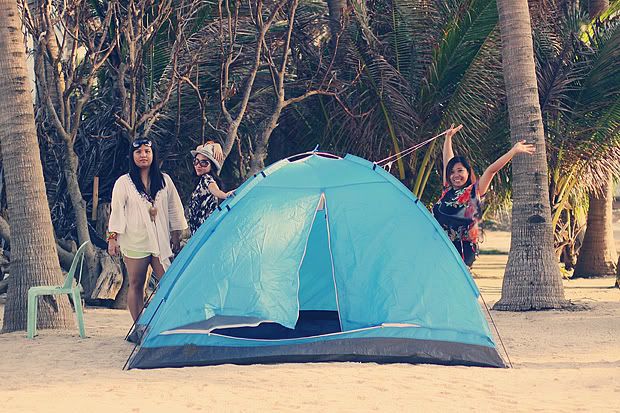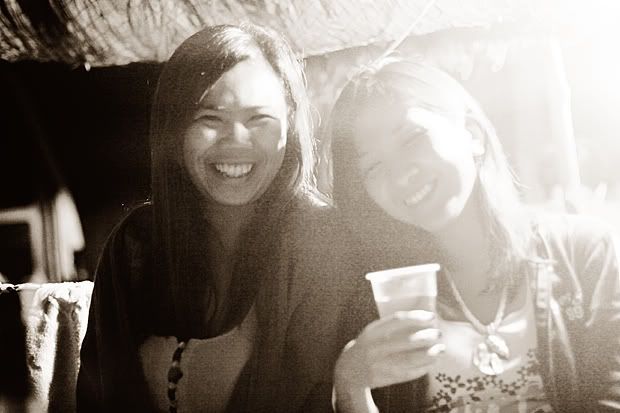 Tipsy, are we?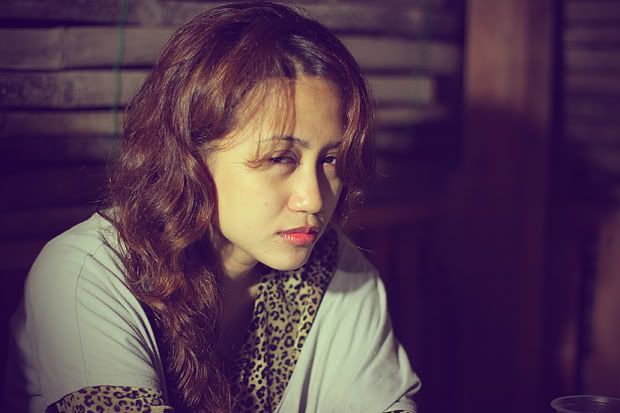 LOL. Wasn't the drunkest. Guess who!
The next morning, we had a hearty breakfast of corned beef (which was cooked by the non-cook, Karen… for the first time!), noodles with lettuce and sunny side-ups (cooked by Ferina who was complaining about the non-nonstick pan and unfresh eggs), and fried rice (cooked by Hazel). After our breakfast, we texted Mang Abel, our tricycle sundo, to take us to the highway where we would take a bus home to Laoag.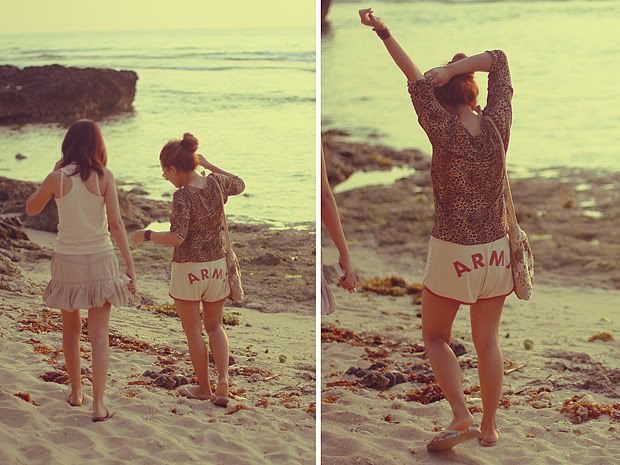 Stretching!!!
Hazel groggy na groggy!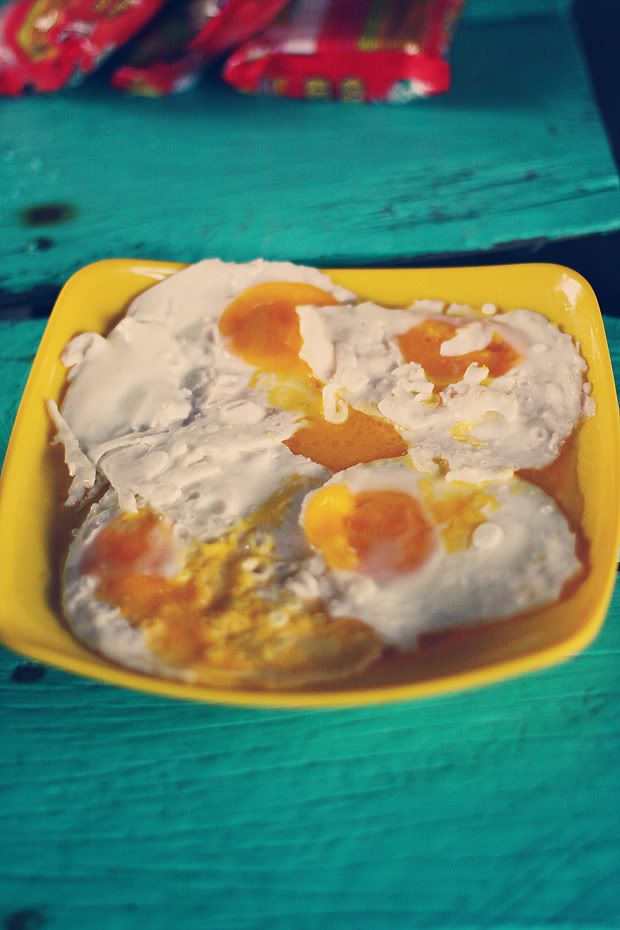 Fail Eggs! :-(
We would have wanted to stay longer, for perhaps another night if we could. But of course, a beautiful baby named Vanilla, a loving husband named Momoy, a doting Mom named Ofel, and a big-buck online job was waiting for us back home. So we will have to do this some other time. Definitely.